Äntligen äntligen ÄNTLIGEN!!!
Äntligen så har omslaget till
The Sword of Summer
av Rick Riordan kommit! Och den är så fiiiiin!!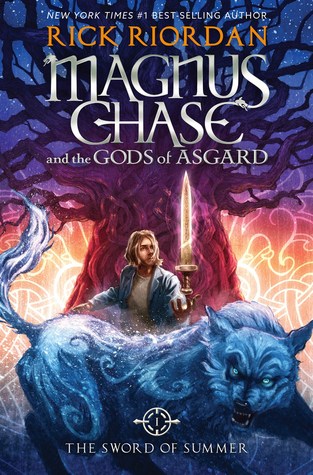 När jag först såg omslaget så hade jag lite svårt för det, det kändes helt enkelt inte rätt. Men nu när det har gått några dagar så tycker jag att det är jättesnyggt! Lite konstigt jag vet, men så kan det vara ibland.
Jag älskar verkligen färgpaletten och motiven i bilden, speciellt trädet och vargen (som jag gissar är världsträdet (aka Yggdrasil) och Fenrirulven). Om jag gissar rätt och Magnus verkligen kommer vandra längs Yggdrasil och träffa Fenrir så kommer jag bli överlyckligt - eftersom de är bland mina favoriter i den nordiska mytologin. Jag hoppas också på att Loki är med och att han inte är ond!
Ser ni fram emot The Sword of Summer och vad tycker ni om omslaget?