Vad är ett nytt år utan en lista på alla böcker jag ser fram emot det året? Här kommer en lista på 16 böcker som jag ser fram emot lite extra! (Märkte i efterhand att det bara blev engelska böcker, oops.)
16. Front Lines av Michael Grant
En alternativ värld där kvinnor var med i Andra världskriget. Boken handlar om tre tjejer som av olika anledningar väljer att gå med i armén och kämpa. Just böcker som handlar om alternativ historia tycker jag är jättespännande att jag ser verkligen fram emot att se hur Grant har skrivit det.
15. The Imposter Queen av Sarah Fine
En fantasybok som handlar om en tjej som ska bli drottningen men inte blir det. Hon flyr och finner säkerhet hos andra som har flytt. Men hon slits mellan lojaliteter och vet inte vad hon ska göra. Jag gillar hur texten beskriver handlingen, speciellt som att den börjar när mycket redan har hänt.
14. Summer Days and Summer Night: Twelve Love Stories redigerad av Stephanie Perkins
En novellsamling med vad jag antar är ett liknande tema som
My True Love Gave to Me: Twelve Love Stories
, fast på sommaren. Gillar den första och jag kommer självklart läsa den här också i sommar.
13. Imprudence av Gail Carriger
Har visserligen inte läst Prudence ännu, men den är skriven av Gail Carriger och därför är den en bok jag automatiskt kommer att läsa. No question asked.


12. The Wicked + The Divine Vol 3: Commerical Suicide av Kieron Gillen m.fl.
De här seriealbum handlar om hur gudar återföds i kroppar och blir superkändisar. I de två första följer handlingen tjejen Laura och hur hon träffar dessa gudar. Älskade de två första seriealbumen och ser verkligen fram emot den tredje!


11. Lady Renegades av Rachel Hawkins
Den avslutande delen i Rebel Belle serien om Harper som blir en beskyddare till sin skolkompis David som visar sig vara ett orakel. Eftersom jag tyckte att Miss Mayhem (andra boken) var lite meh-ig hoppas jag Hawkins höjer ribban Lady Renegades.



10. Heartless av Marissa Meyer
Med Fairest visade Meyer hur bra hon kan skriva en skurk med dess bakgrund och handlar, vilket ger mig hopp för att Heartless kommer bli minst lika bra eftersom den handlar om den framtida Queen of Hearts från Alice´s Adventures in Wonderland.

9. The Skylighter av Becky Wallace
En fantasyvärld som saknar motstycke! Längtar verkligen efter den här uppföljaren för att få reda på vad som kommer hända med magin i världen och karaktärerna.


8. The Flame Never Dies av Rachel Vincent
Andra delen i en duologi om en tjej som har vuxit upp i en värld där kyrkan har makten men som styrs av demoner. Gillade första boken,
The Stars Never Rise
, jättemycket och jag ser fram emot att få se hur Vincent kommer avsluta serien.
7. The Raven King av Maggie Stiefvater
Det känns som om jag har väntat på
The Raven King
i snart 2 år (kanske t.o.m. har varit så länge?) och det enda jag kan tänka på när jag tänker på den är att jag snart kommer ha den i mina händer och sedan kommer jag bryta ihop för att den är så sorglig och bitterljuv i slutet. No pressure at all Stiefvater! No pressure at all!
6. The Glittering Court av Richelle Mead
Första boken i en ny trilogi av Mead och om jag har förstått rätt så kommer varje bok i serien att handla om samma händelser fast från olika perspektiv. Jag känner att detta antagligen kommer bära eller brista, men jag hoppas på det första!
5. The Hidden Oracle av Rick Riordan
Vad är ett år utan en bok av Riordan? (Eller två som är fallet just nu.)
4. Glass Sword av Victoria Aveyard
Älskade slutet av
Röd drottning
och kommer bli kul att få reda på hur handlingen kommer fortsätta. Är speciellt intresserad av hur samhällsstrukturen kommer att förändras och vilken roll Mare kommer spela i den.
3. Furthermore av Tahereh Mafi
Tiden är snart inne för Mafis nya bok
Furhermore
som handlar om 15-åriga (gissar jag efter lite räkning) Alice som letar efter sin far som har varit försvunnen i tre år. Alice måste då in i landet Furthermore med killen Oliver som enda sällskap. Jag har en känsla att den här boken kommer vara perfekt! <3
2. The Hammer of Thor av Rick Riordan
Som sagt, vad är ett år utan två böcker av Riordan? Haha!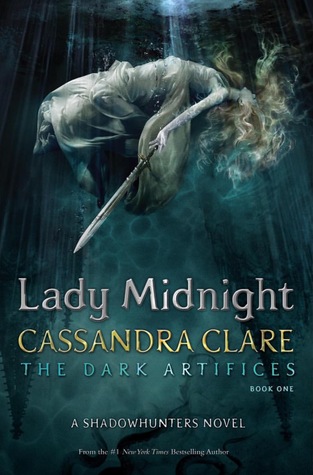 1. Lady Midnight av Cassandra Clare
Snart två år sedan Clare gav ut City of Heavenly Fire och äntligen kommer hon ut med en bok med Shadowhunters! Yay! *high-five*